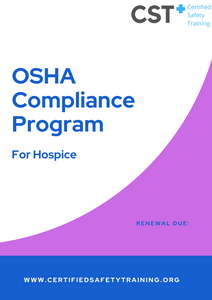 Award-Winning Compliance and Continuing Education:
+ Custom Compliance Website
+ Custom Printed OSHA Manual
+ Unlimited Online Training
+ Certified Safety Data Sheets
+ And More!
Programs include:
Emergency Action and Fire Safety Program
Bloodborne Pathogen Exposure Control Program
Hazard Communication Program and Certified Safety Data Sheets
Formaldehyde Exposure Control Program
Respiratory Protection Program
Personal Protective Equipment Program
Spill Response Program
Slips, Trips, and Falls Program
Ladder Safety Program
Confined Space Safety Program (Crematory, Freezers, Cemetery)
Lockout / Tagout Program (Crematory)
Scissor Lift Safety Program (Cemetery)
Power Hand Tools Safety Program (Cemetery)
General Safety Checklist
Each Program Comes Equipped With:

Written Compliance Plan
Recordkeeping requirements

Fact Sheets and Resources

Customizable OSHA Forms

Online access to the plan

One copy of a printed plan with forms for reference

Printable Posters
Training Topics and Online Training

Employee Training Documentation

Trainer Qualifications

Annual Program Review
Includes All of The Following Trainings:

Emergency Action and Fire Safety Training
Bloodborne Pathogen Exposure Control Training
Hazard Communication Training
Respiratory Protection Training
Personal Protective Equipment Training
Spill Response Program Training
Back and Lifting Safety

 

Training



Ergonomic Safety

 

Training

Slips, Trips, and Falls

 

Training

Cremation Safety Training

Sexual Harassment Training (NEW)

Workplace Violence Safety Trai

ning (NEW)
Online OSHA Trainings Come With:

Live Chat
Real-Time Feedback
Unlimited Retakes
Customized Certificate and Proof of Training
Employee Training Documentation
No Logins Required
Cloud-based Recordkeeping
Compatible on any Computer, Mobile or Tablet Device
Unlimited technical assistance, by telephone and email
Who is "At-Risk"?

All full- and part-time employees, workers, outside contractors and anyone who comes into contact with chemicals or other humans are considered at-risk.