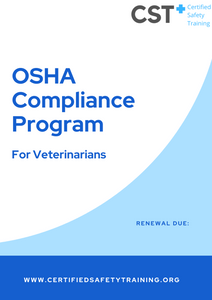 Complete Compliance

Award-Winning: Custom Printed OSHA Manual + Unlimited Online Training + Certified Safety Data Sheets. Programs include:
Emergency Action and Fire Safety Program
Bloodborne Pathogen Exposure Control Program
Hazard Communication Program and Certified Safety Data Sheets
Respiratory Protection Program
Personal Protective Equipment Program
Spill Response Program
Slips, Trips, and Falls Program
Ladder Safety Program
Radiation Safety Program
Animal Handling and Restraint Safety Program
Anesthesia Safety Program
Hearing Protection Program
Ergonomics and Workplace Safety Program
Infectious Disease Prevention Program
General Safety Checklist
Training Topics Include:
General safety

Infection control

Bloodborne pathogens

Hazardous chemicals

Workplace violence


Fire safety

Personal protective equipment

Radiation safety

Laser safety

Controlled substances

Hearing protection

Back and Lifting Safety
Ergonomic Safety
Slips, Trips, and Falls
Each Program Comes Equipped With:

Written Compliance Plan
Recordkeeping requirements

Fact Sheets and Resources

Customizable OSHA Forms

Online access to the plan

One copy of a printed plan with forms for reference

Printable Posters
Training Topics and Online Training

Employee Training Documentation

Trainer Qualifications

Annual Program Review
Online OSHA Trainings Come With:

Live Chat
Real-Time Feedback
Unlimited Retakes
Customized Certificate and Proof of Training
Employee Training Documentation
No Logins Required
Cloud-based Recordkeeping
Compatible on any Computer, Mobile or Tablet Device
Unlimited technical assistance, by telephone and email
Who is "At-Risk"?

All full- and part-time employees, workers, outside contractors and anyone who comes into contact with chemicals and deceased remains during their work at a veterinarian clinic are considered at-risk.

Everyone is responsible for creating and maintaining a safe and secure work area. There are no exceptions. Attending training sessions annually will ensure at-risk employees are:

knowledgeable about the types of bloodborne pathogens encountered
familiar with proven methods to reduce exposure risks, and
aware of the proper use of personal protection equipment.